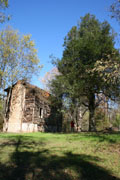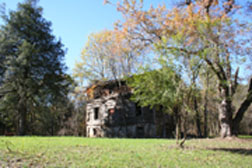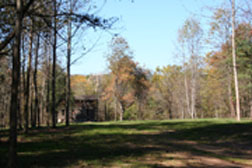 Turn to the west off US 29 (Charlotsville/Washington DC) on VSR 609. Drive west on 609 for 6.9 miles while staring at the Blue Ridge and Old Rag Mountain. Next, north on VSR 606 (Desert Road). This gravel lane wanders through a thick and mature forest with brief interruptions of open meadows for 1.4 miles and then the property is on the left. The road frontage on 604 is 338' and the lot is about 1200 feet deep.

You will see the mid 1800 old farm house back about 500'

from the road. The area between the road and the house is mostly open but a few trees dot the landscape. Near the road there are some pines but as you move towards the house you will find 

white oaks, maple, locus, poplar, cedar and right in fornt of the house is the biggest holly tree that I have ever seen.

The landscape is nearly level from the road back to the house with a gentle decline to the left as you approach the house. In back of the house the terrain falls off gently. On a winter's day you can see the top of Old Rag Mountain from the front of the lot. I believe with the removal of just a few trees that there may be a

mountain view. This property is in a very quite, peaceful, private setting. While access is very convenient  you feel

as if you are a million miles from everything.



.....offering Virginia Land and Cattle

Property on Desert Road - Madison County